Gone are the days of custom made, hand coded websites being the only option available; if you're in the market for a new website, there are now an overwhelming range of options to choose from. I'm a London based web designer in Barnet / Enfield, and many of my clients are unsure what's right for them. They know they need a website. But do they hire a web designer? Will they need a site built completely from scratch, or based around a template? Do they attempt to build one themselves using one of the increasingly popular "build your site online for free" type services?
If you're asking any of the questions above, this article is just for you. To discover which of these options might be right for you; it's important to understanding the pros and cons of each, and being able to make an informed decision…quickly!
There are really only three options;
Build your own website.

Hire a web designer to build one for you.

Hire a web developer to build one for you.
So which option is right for you? Well that depends on the size of the business you are building the site for, the intended use of the site, whether it needs to compete online in a crowded marketplace and more… It also depends a little on your own creativity and the time you have available to spend on the project.
IF YOU REALLY WANTED TO IMPRESS A VALUABLE POTENTIAL CLIENT, YOU WOULDN'T SET UP THE MEETING AT A FAST FOOD RESTAURANT… YOU'D WANT TO TAKE THEM TO A TOP RESTAURANT! SO WHY RISK TAKING POTENTIAL CLIENTS TO A "FAST FOOD" STYLE WEBSITE?!
I'm sure you've enjoyed fastfood before, who hasn't? If you're in a rush, it can serve its purpose. But if you needed to impress an important business client, would you setup the meeting to sign off on a huge deal at a fast food restaurant? Of course NOT! It would reflect terribly on you and your business. So this illustrates an important point; choose a website that's appropriate for the kind of customer or client you need to impress. "Build it yourself websites" can serve a purpose, but they mfay not be enough to impress potential clients.
Building your own website. (The fast food restaurant!)
There's nothing wrong with doing this if you have the time, and there are certainly many tools out there to make the job easier for you. It's not going to look as professional as it could, simply because you'll be relying on stock imagery; most of the templates showcased use very attractive stock images and professional branding – so the logo, colours, font etc. all work together. When you insert your own images & content the results can look a little disappointing. Without the guidance of a designer you could create something awful without realizing it. Another factor to watch out for is that you won't actually own your website; you rely on the company for hosting and most offer you no option to take control of your site further down the line. This makes future development difficult.
Even if you decide to build your own website, consider having professional graphics designed for the site; at the very least a logo or brand developed. Using these professional elements can make a huge difference to the overall look and feel. It also wouldn't hurt to have a professional look over the content on the site to check the quality of the copy, ensure relevant information is positioned correctly, and the user is led through the site in a way that will increase the likelihood of sales.
Suitable for: Sole traders with a tight budget, or start-ups that want to get an online presence quickly before investing in a professionally developed site. (Solo window cleaners? Car washes? Solo home cleaning services? Businesses that need to present very little information).
Pros: Saves money! This is obviously the cheapest option.
Cons: Lacks the professional touch. Can be time consuming to finish as tools will be unfamiliar. A poor way to stand out from the crowd – as many of the templates are overused. Search engine optimization fair, but not good enough to compete with professionally developed sites.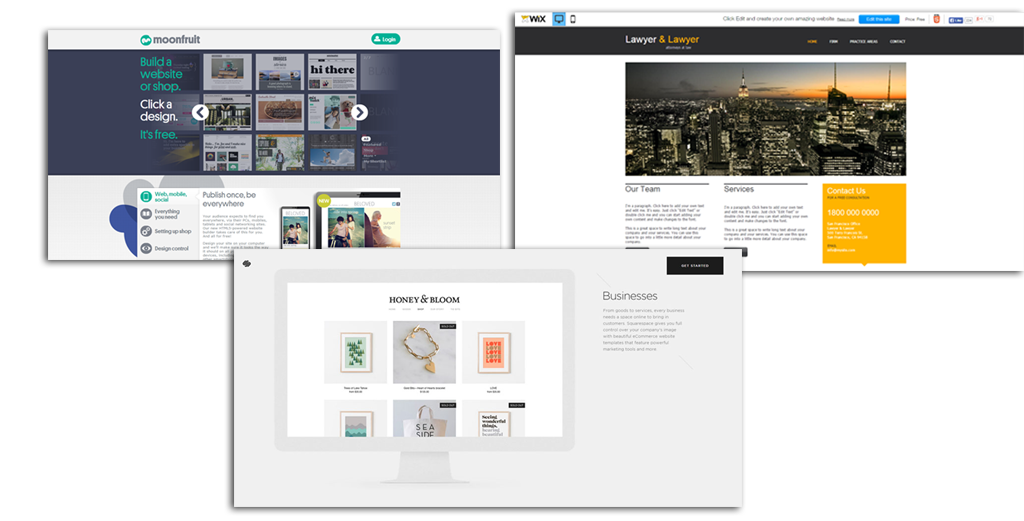 Wix, Moonfruit and Squarespace are just a few of the online sites that let you build your own website.
Hiring a web designer to build one for you. (The restaurant!)
A web designer is someone who has devoted huge amounts of time to staying on top of the latest developments and trends in websites, the way a visitor uses and flows through a website – not to mention the way they will be displayed on a wide range of devices. Their expertise enables them to carefully position information in a way that ensures the user enjoys their experience on the website, finds their eye drawn to relevant information. The visitor is led through the site in a pleasurable way that answers their questions and leaves them wanting to hire you or purchase a product. I cannot stress enough that it's this function which actually defines the need for a website; to be informative, easy to navigate, leave a professional impression – and to convert potential business. A professional website will turn curious potential customers into loyal paying customers.
Better still, a web designer has the experience to avoid mistakes, know the do's and don'ts of both planning and building a website – and be able to present your business (your brand) online in a highly professional way. In the age of complex sites, responsive design & CMS systems; they rarely develop a site entirely from scratch. Instead they'll use "platform" or template from a 3rd party or one they've had developed for them (If they developed it themselves, that would make them a web developer!) and then build and customise the "front end" of the website for their client. This could be likened to someone who builds cars buying the engine and frame – then adding all the extra components and finishing touches themselves.
Suitable for: Any business which wants to look professional and provide a quality user experience. Businesses who want their brand to be consistently represented both on and offline.
Pros: You benefit from the skill and experience of a professional to deliver a website that is handcrafted to work for your business, and deliver results. Can be optimised for Search Engines (SEO) to appear much higher up the rankings. Saves you time. Guarantees professional results. More likely to impress clients. You have the option to take your website elsewhere, change hosts and update it as you please.
Cons: It's an investment – so it will cost money! You have to find a capable web designer who you trust, and who shares your vision.
Below are the most popular WordPress templates available, each highly customisable with many advanced features. Many web designers work with these popular templates, built on the WordPress framework.
Hiring a web developer to build one for you. (The best restaurant in town!)
Web developers will usually work with a team of designers – meaning these are typically larger companies. But they offer a truly bespoke service, building your website from "the ground up" and tailoring every piece of code to your requirements. This means there are no limitations, creatively or practically. You can have a site developed to do what you want, how you want. But you'll have to pay for the privilege. Sometimes web developers will publish their own platform from which to build other sites on – and this somewhat reduces the overall cost.
Suitable for: Larger businesses, enterprises, or those with very unique and specific requirements. Perhaps a very high level of security, an unusual interface, or advanced integrated e-commerce system.
Pros: No limitations or restrictions caused by platforms or templates. Enables you to think completely "outside the box". Very high security as hackers will not be familiar with the site framework; it's one-of-a-kind. Developers can work with designers to create an incredible immersive and interactive experience.
Cons: The price! Cost is much higher as you are paying for stages of testing and development as well as the creative aspect of the site.
So in conclusion, some businesses will require no more than a quick, informative website that they may be able to build themselves if they have the time. Think window cleaners and car washes. But others are going to need a professional online identity and a website that does more than just exist… it needs to work as a sales tool, and help convert visitors into paying customers / clients making enquiries. Others will need something so unique and specific that they'll want every aspect of it tailor made.
I hope this helps you to make an informed decision about the type of website you need!